Iowa City, Iowa- On a brisk windy October Saturday Marylands play can be described in one Matt Canada quote "I wish it could have been better." From the start of the 23-0 shoutout, Iowa had the perfect game plan stop the run on defense and establish the run on offense, they executed that perfectly Maryland ended the game with 23 carries for 68 yards while Iowa had 224 yards on the ground.
Iowa started the game with five straight rushes before Nathan Stanley found Maryland's Tre Watson who intercepted the Stanley pass. Giving the Terps the opportunity they wanted early on that started with optimistic play when Kasim Hill found Jahvis Davenport for 13 yards, Hill would only have 34 more yards on the day. The drive fizzled out.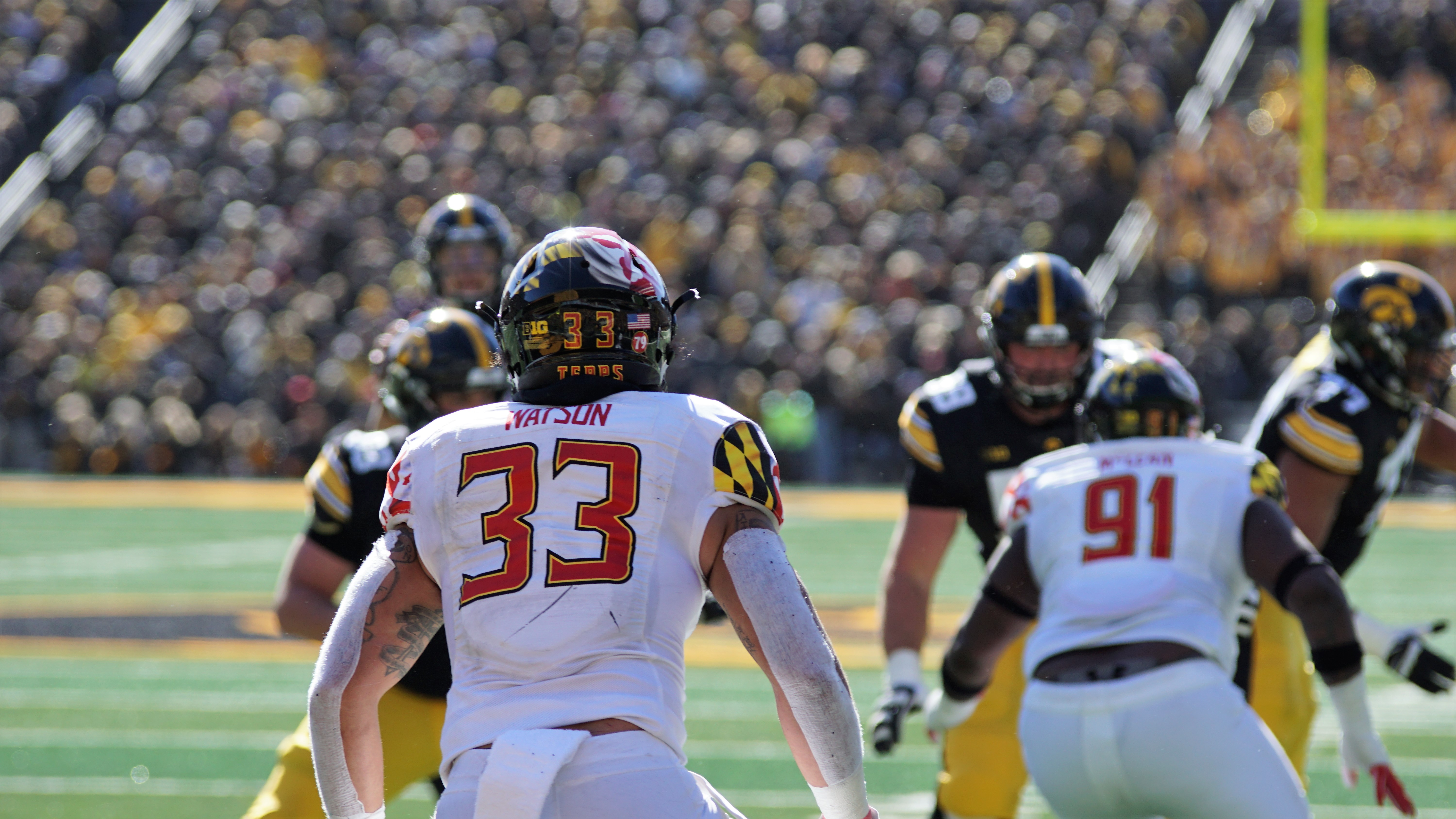 Iowa then put some drives together that involved a plethora of big 3rd and 4th down conversions that led to back to back field goal drives to put the Hawkeyes up 6-0.
Maryland finally got something going as they crossed midfield to the Iowa 46 when Kasim Hill looked for Dontay Demus and found Iowas Amani Hooker. Giving the Hawkeyes the ball near the 50 yard line. The Terps defensive theory on the day of bend don't break finally failed as Iowas Nathan Stanley found wideout Brandon Smith with 13 seconds left in the 2nd quarter to put the Hawkeyes up 13-0 going into the locker room.
The door was still open for the Terps who would receive the second half kick off only down 13 but Canada and Co. couldn't get anything cooking as the Terps ended the drive with a total of negative 8 yards.
Iowa would take the ball in plus territory and cash in a field goal to go up 16-0. The ensuing  Maryland drive would be the teams worst moment of the game in an attempt to jump-start the team Canada elected to go with backup QB Tyrell Pigrome who turned to fake the jet sweep play when Maryland WR Brian Cobbs blasted Pigrome who fumbled the ball into the end zone where it was recovered by Anthony Nelson for an Iowa Touchdown (23-0).
The 4th quarter would be nothing but a formality for both sides that used backups and 3rd string guys to finish out a dominate Iowa win 23-0.
The Terps will have an eventful week coming up with the fate of head coach DJ Durkin expected to be announced, and an import game against Illionios who lost today to Wisconsin 49-20.